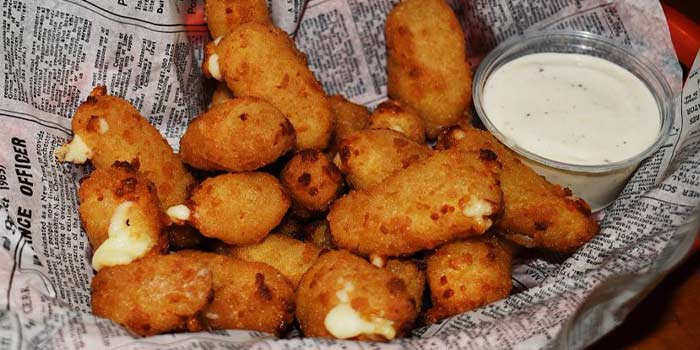 GREEN BEANS
Tender green beans are seasoned, lightly battered, and deep fried. Served with jalapeño ranch sauce. 10
---
CHEESE CURDS
Wisconsin cheese curds are lightly battered and deep fried. 12
---
HAYSTACK ONIONS
Piled high and cooked to a crisp, our haystack is served with jalapeño ranch sauce. 9
---
WINGS
Naked wings deep fried and served with your choice of sauce – tossed or on the side for dipping. 12
---
PICKLE SPEARS
Battered and deep fried, these pickles are tasty. 10
---
TRADITIONAL FRENCH FRIES
Deep fried to a golden crisp, just as you like 'em. 4
---
SWEET POTATO FRENCH FRIES
Deep fried with a tasty crunch and soft inside. 6
---
CALAMARI
Lightly battered, deep fried, and served with marinara or cocktail sauce. 12
---
AHI TUNA
Black-pepper tuna seared and served chilled with a soy and ginger miso sauce. 15
---
POPPERS
Jalapeño peppers stuffed with cream cheese, lightly battered, and deep fried. 10
---
BATTERED MUSHROOMS
Lightly battered and deep fried. 10
---
STUFFED MUSHROOMS
Stuffed with roasted garlic, Cheddar and Monterey Jack cheeses, and lightly sprinkled with seasoned breadcrumbs. 11
---
HOMEMADE CORN TORTILLA CHIPS
Served with your choice of artichoke dip or salsa. 10
---
DUCK TENDERS
Lightly battered, deep fried, and served with a sweet chili dipping sauce. 13
---
SPICY CAULIFLOWER
Spicy-breaded florets are deep fried and served with your choice of dipping sauce. 9
---
LOADED POTATO SKINS
Coated with melted Monterey Jack cheese, bacon, and chives and served with sour cream. 10
---
SAGANAKI
Greek Kasseri cheese seasoned and seared, with the traditional tableside Opa! Flambé. 12
---
CHICKEN TENDERS
All white meat tenders breaded and deep fried. Served with your choice of dipping sauce. 9
---
CLAM STRIPS
Tender clam lightly breaded, deep fried, and served with your choice of tartar or cocktail dipping sauce. 9
---
ONION RINGS
Classic. 11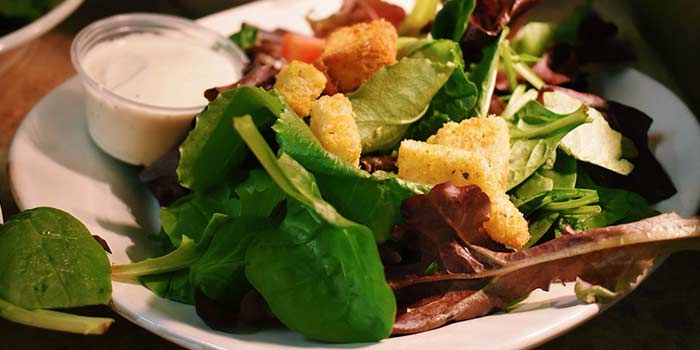 CHICKEN CAESAR
Classic Caesar salad with chicken, romaine lettuce, shredded Parmesan, croutons, and Caesar dressing. 15
---
BLACKENED CHICKEN CAESAR
Classic Caesar salad with blackened chicken, romaine lettuce, shredded Parmesan, croutons, and Caesar dressing. 17
---
CRANBERRY WALNUT CHICKEN
Grilled chicken strips on a bed of mixed greens tossed with dried cranberries, walnuts, croutons, tomatoes, cucumbers, and bleu cheese crumbles. Served with raspberry vinaigrette, or your choice of salad dressing. 14
---
MAHI-MAHI
Grilled mahi-mahi, nestled in a bed of mixed greens, tomato, cucumber, onion, shaved almonds, and raspberry vinaigrette. 18
---
SAVORY SALMON
Delectable salmon served on a bed of mixed greens with red onions, tomatoes, cucumbers, and bleu cheese. Served with balsamic vinaigrette on the side, or your choice of salad dressing. 16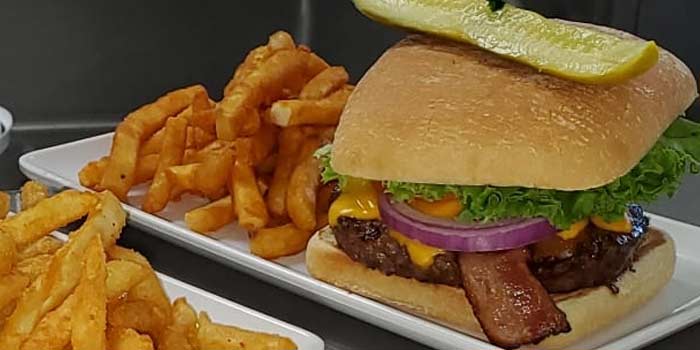 THE SAVORY*
This can't-be-beat savory burger is served with garlic butter, lettuce, tomato, and onion. Cheese available upon request. 14
---
THE SWISS MUSHROOM*
Traditional Swiss cheese and mushroom burger served with lettuce, tomato, and onion. 16
---
THE BOURBON CHERRY*
Our homemade bourbon cherry sauce complements Muenster cheese and onions. 17
---
THE BBQ STACK*
A flavorful burger stacked with onion tanglers, Cheddar cheese, bacon, and topped with bar-b-que sauce. 15
---
THE BREAKFAST BURGER*
End your day with a fried eggtopped burger served with American cheese and bacon. 17
---
THE MELTED PATTY*
Patty comes with Swiss cheese and grilled onions, served on marbled rye bread. 15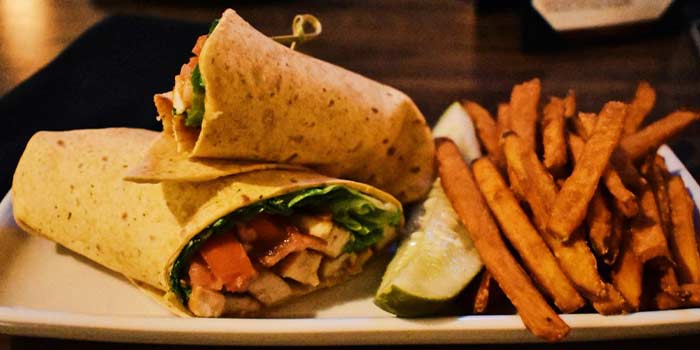 GRILLED CHICKEN
Perfectly grilled chicken breast served with lettuce, mayonnaise, and tomato. 15
---
SOUTHWEST CHICKEN
Chicken breast topped with southwest sauce and served with sautéed peppers, onions, and Monterey Jack cheese. 15
---
PARMESAN CRUSTED CHICKEN
Perfectly crusted chicken breast is topped with marinara and melted mozzarella and provolone cheeses. 15
---
CLASSIC REUBEN
Traditional corned beef, melted Swiss cheese, sauerkraut, and thousand island dressing served on marbled rye bread. 14
---
THE FRENCH DIPPER
Slow-roasted prime rib, delicately shaved, served on a hoagie bun with au jus for dipping. 14
---
THE PHILADELPHIA
Classic Philly Cheese crafted from slow-roasted and shaved prime rib, sautéed peppers and onions, served on a hoagie bun with melted mozzarella and provolone cheeses. 16
---
BLACKENED MAHI-MAHI
Mahi-mahi blackened and served with romaine lettuce, tomato, and tartar sauce. 17
---
STEAK SANDWICH
A 4 oz. filet mignon grilled to perfection and served on a sourdough hamburger bun. 17
---
CHICKEN BACON RANCH WRAP
Grilled chicken wrapped up with bacon, lettuce, tomato, and ranch dressing in a seasoned herb tortilla. 14
---
BALSAMIC CHICKEN WRAP
Balsamic-glazed grilled chicken wrapped with spring lettuces, red onion, bell pepper, and tomato. 13
---
BUFFALO CHICKEN WRAP
Crispy chicken with buffalo sauce, lettuce, and bleu cheese dressing in a seasoned herb tortilla. 13
---
CAESAR CHICKEN WRAP
Grilled chicken, shredded Parmesan cheese, romaine lettuce, diced tomato, and Caesar dressing. 14
---
GRILLED MAHI-MAHI WRAP
Mahi-mahi grilled and served with a pineapple and mango salsa, spring lettuce, and tomato. 17
---
SALMON BLT WRAP
Delicately grilled salmon, bacon, lettuce, tomato, and mayonnaise wrapped in a seasoned herb tortilla. 17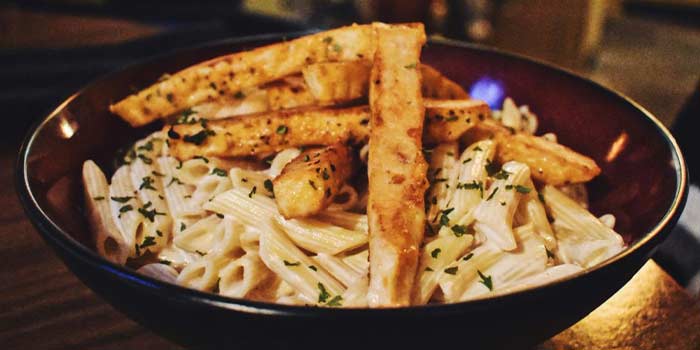 ALFREDO
Our creamy Alfredo sauce is a foodie's dream with only a few ingredients to craft something wonderful! Half order available upon request.
Meatless 12
Chicken 16
Cajun Chicken 16
Shrimp 19
Cajun Shrimp 19
---
CHICKEN PARMESAN
Parmesan-crusted chicken breast served on a bed of linguine topped with marinara sauce and shredded Parmesan. 20
---
SPAGHETTI
Classically prepared.
Meatless 20
Meatballs 24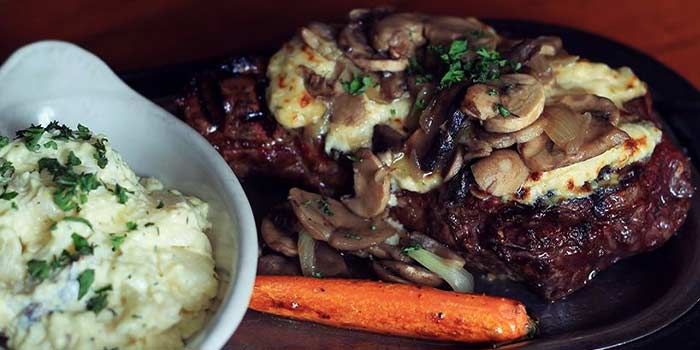 All our Signature Steaks are Black Angus Cuts and Dry-Aged for 28 Days.
---
NEW YORK STRIP*
This 12 oz. center cut is a go-to for the steak lover. 29
---
RIB EYE*
Our aged rib eye is tender and full of flavor.
10 oz. 24 | 14 oz. 29
---
FILET MIGNON*
Barrel cut, these top-tier steaks are irresistible.
6 oz. 31 | 8 oz. 34
---
T-BONE*
Arguably one of the best cuts, our 16 oz. T-bone is seasoned well and cooked to order. 30
---
CENTER CUT SIRLOIN*
Juicy and delicious; this is a lean and tender steak. 20
Enjoy your Favorite Topping on Any of Our Steaks.
---
PLAIN
An uncorrupted feast for a carnivore.
---
BLACKENED
Dipped in butter and coated in a blend of chili powders, herbs, and spices, then seared. 5
---
MUSHROOMS AND/OR ONIONS
Savory sautéed mushrooms or onions, or enjoy both. 4
---
STEAK BUTTERS
Our hand-crafted butters are sure to please. 3
Bleu Cheese Bacon and Shallot
Garlic Herb
Red Wine
White Truffle Parmesan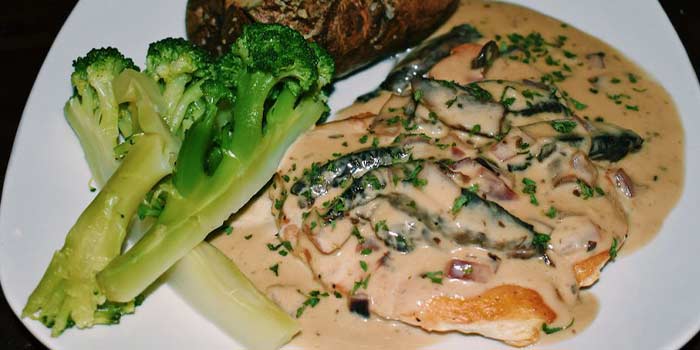 All entrees are served with warm artisan bread, our featured vegetable, and your choice of potato.
Add soup or a side salad for just 3.
---
EGGPLANT PARMESAN
Lightly breaded and fried, topped with marinara sauce, melted mozzarella, provolone, and shredded Parmesan cheeses. 13
---
LIVER AND ONIONS
The classic calves' liver pan-fried and topped with onions and bacon. 17
---
PARMESAN CRUSTED CHICKEN
Parmesan-crusted chicken breast topped with melted mozzarella and provolone cheeses, served with marinara sauce. 16
---
SMOTHERED CHEESY CHICKEN
Pan-seared chicken breast smothered with mushrooms, onions, and melted Monterey Jack cheese. 16
---
CHICKEN CORDON BLEU
Hand-breaded, boneless chicken breast stuffed with baby Swiss cheese and Black Forest ham. Topped with a garlic, mushroom and Swiss sauce. 20
---
CHICKEN GARLIC MARSALA
Seared chicken breast topped with a garlic, sautéed mushrooms, and onion Marsala sauce. 20
---
PORTERHOUSE PORK CHOP
Incredibly moist and flavorful, our pork chop is char-grilled and caramelized to perfection.
Char-Grilled Plain 24
Char-Grilled Blackened 27
The Jerry, (Marsala Sauce) 28
---
ROASTED DUCK
A half duck roasted and topped with a sweet and savory blackberry sauce. 33
---
LAMB CHOPS
Enjoy three 4 oz. lamb chops, broiled or grilled with rosemary garlic seasoning, and served with mint jelly. 35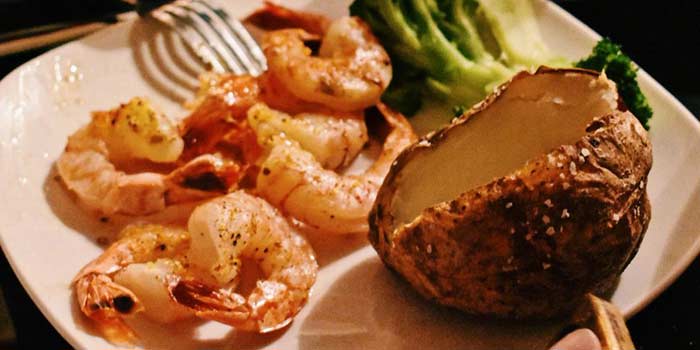 All entrees are served with warm artisan bread, our featured vegetable, and your choice of potato.
Add soup or a side salad for just 3.
---
CRAB CAKES
Hand-crafted crab cakes offered with cusabi or cocktail sauce. Other sauces available upon request. 16
---
MAHI-MAHI
Seasoned and grilled mahi-mahi served with our pineapple and mango salsa. 22
---
WALLEYE
Filet lightly dusted with seasoned flour and pan seared or deep fried; a long-time favorite of fish lovers. 22
---
COCONUT SHRIMP
Our coconut-breaded shrimp are deep fried and served with a sweet chili sauce.
Half Pound 27 | Full Pound 35
---
THAI SAVORY SALMON
Prepared with a spicy honey garlic sauce, this salmon is sure to please. 24
---
CEDAR PLANK SALMON
Buttery salmon filet specially seasoned and served on a smoky cedar plank with our special butter. 25
---
SHRIMP
We offer you options – get your shrimp grilled, broiled, or breaded and deep fried.
Half Pound 24 | Full Pound 33
---
SEA SCALLOPS
We serve seven deliciously tender sea scallops, lightly seasoned, pan-seared and oven finished, or breaded and deep fried. 34

Seasoned with our special dry rub and cooked to fall-off the- bone tender. Traditional or Memphis mop sauce style.
Half Rack 23 | Full Rack 30
All fish fry options come with your choice of potato, coleslaw and rye bread.
CATFISH 17
Blackened or deep fried.
HADDOCK 17
Deep fried, broiled, or Parmesan-crusted.
Additional Filet. 7
BLUEGILL 19
Deep fried.
SHRIMP
Broiled, grilled, or breaded and deep fried.
Half lb. 24 | 1 lb. 33
saturday Evening
prime rib
Seasoned and slow roasted overnight for optimal flavor and tenderness; this is an excellent choice for the discerning palate.
Queen's Cut (10oz) 27
King's Cut (16oz) 36
Our Prime Rib is always in demand and our supply limited.
Come as you are
Enjoy the warm, welcoming ambiance!
Our welcoming bar offers a variety of bottle and tap craft beers. Friendly, experienced bartenders serve all manner of cocktails, martinis, and our hand-muddled customer favorite Old Fashioned drinks. With smooth jazz playing softly in the background and bar TV's tuned to sports, guests are invited to dine in the bar area or by candlelight in one of two dining rooms.
We also feature a well-chosen assortment of red and white wine as well as signature martinis and ice cream drinks.